When you use sink, bathtub, shower and floor drains frequently, a dirty ring builds up around the metal drain. If you don't use these drains frequently, you could end up with dangerous sewer gas entering your home.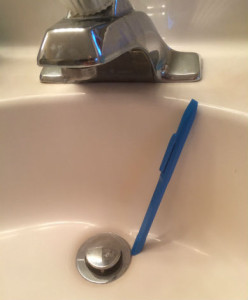 Cleaning around the drains can be quick and easy. Since sponges and other cleaning pads generally don't remove the ring of dirt (and sometimes pink stuff) from the groove around the metal drain, use a Scrigit Scraper cleaning tool to quickly clean out the dirt before you use your sponge or cleaning pad. It usually helps to spray the sink with your favorite spray cleaner first to soften the dirt. If you keep a Scrigit in each bathroom or in your container of cleaning supplies, you will be able to quickly accomplish this task. Then use your sponge or pad to finish cleaning the sink or wherever the drain is located.
If a drain is not used very often, the water in the u-shaped pipe (trap) under the drain will evaporate, which will let smelly and dangerous sewer gas escape into the house. All you need to do is turn on the water about once per month in rarely used sinks, showers and bathtubs for a short time to make sure the drain trap is full of water. For floor drains, pour about a quart or two of water into the drain.
For information about how to clean smelly or clogged drains, click here for a good article with helpful illustrations. For more help with unclogging drains, check out this article on how to unclog and clean a drain, including a recipe for a homemade drain cleaner from Tips Bulletin and the Home Tips World Facebook page.
Follow Scrigit on